78018 running in traffic
78018 now restored can be seen at the Great Central Railway, where she is based. Keep a eye on our news page for information of where 78018 is.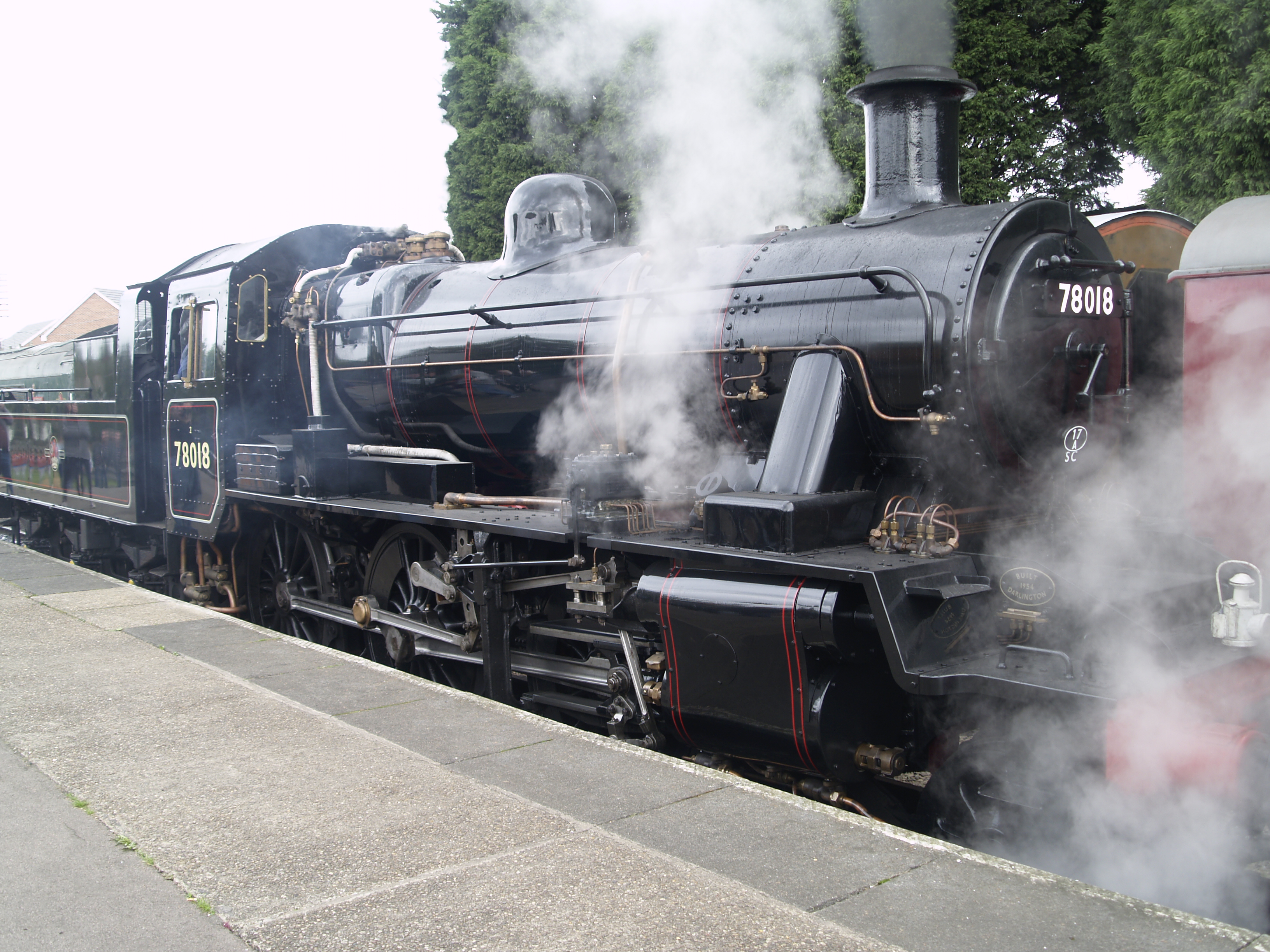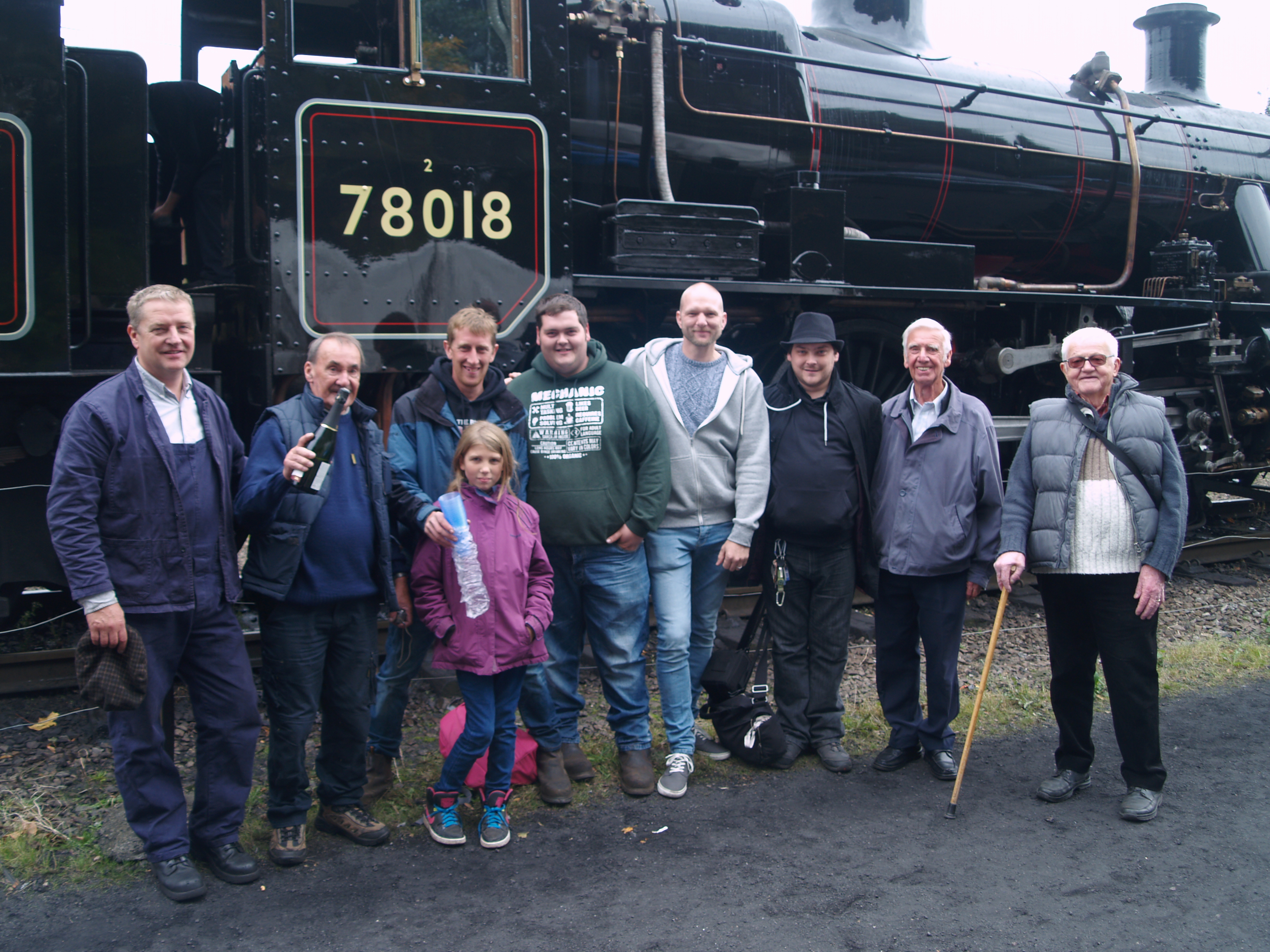 Some of our members stand in front of 78018 at Loughbrough, during its first public outing.
August 18, 2016
The locomotive which was the subject of the famous railway documentary film Snowdrift at Bleath Gill is now back in steam after a 35 year comprehensive restoration, with only the finishing touches and adjustments left to be completed.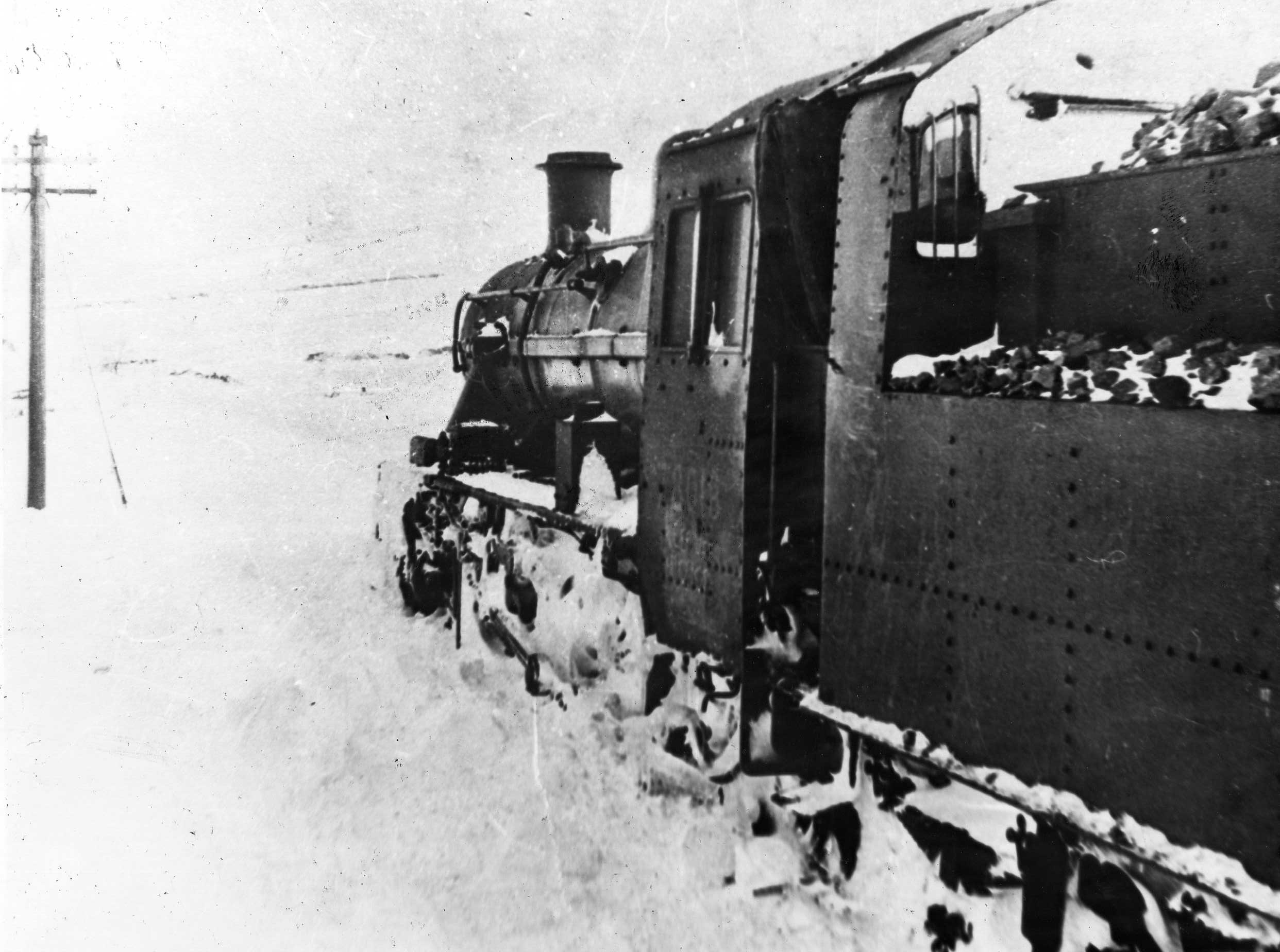 78018 stuck in the snow at Bleath Gill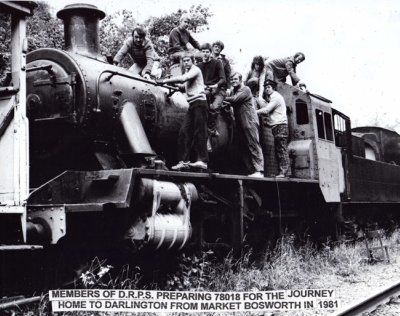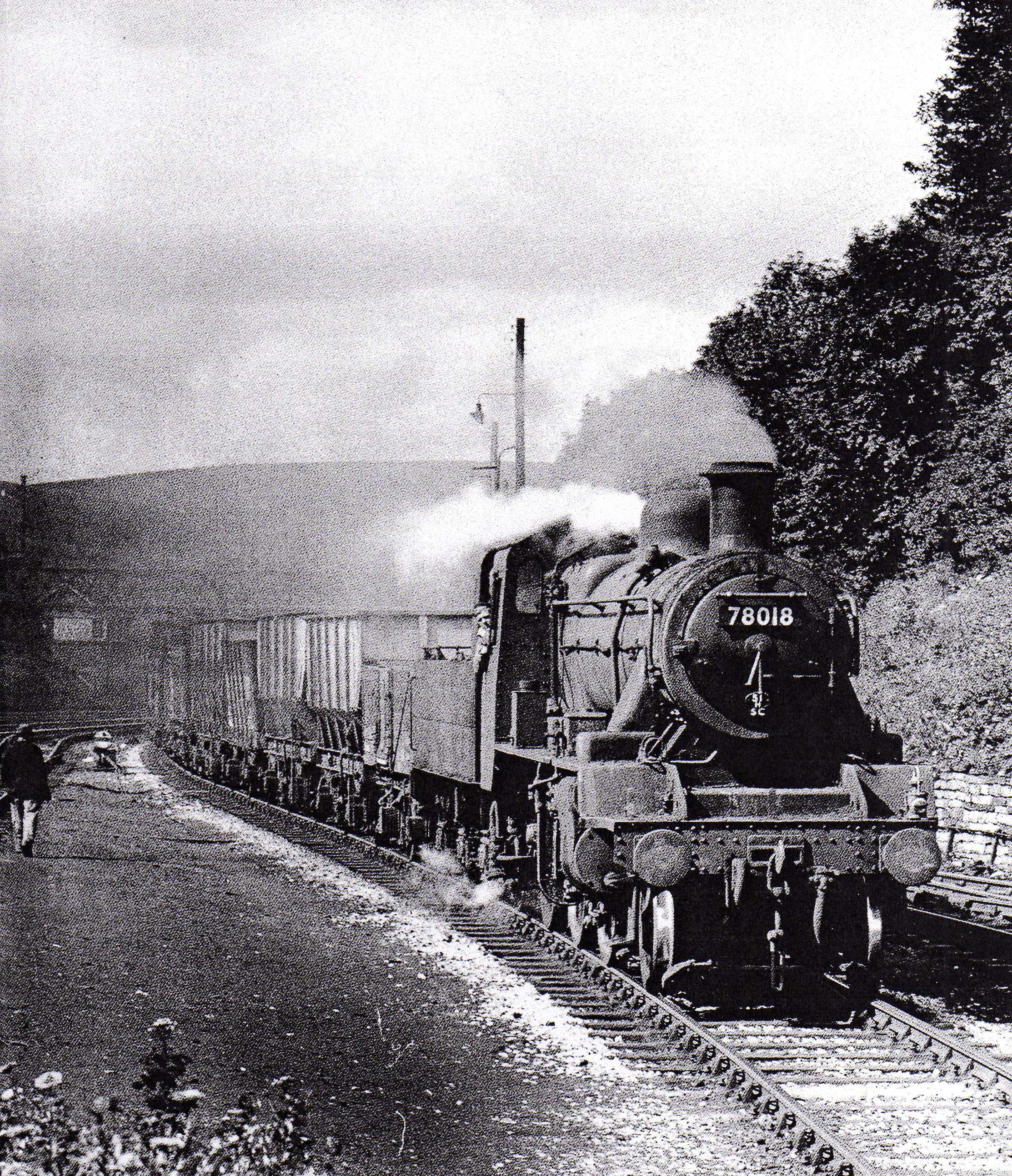 The two photos above show 78018 as we received it and 78018 in traffic in BR days.
The work undertaken has taken 35 years of tireless and careful work by members of the Darlington Railway Preservation Society, and more recently our partners at the Loughbrough Standard Locomotive Group, the team at the Great Central Railway and many more.
Below are the photos from the 14th of August 2016 capturing the moment we in the DRPS have all been waiting for, and all our hard work has been building up to.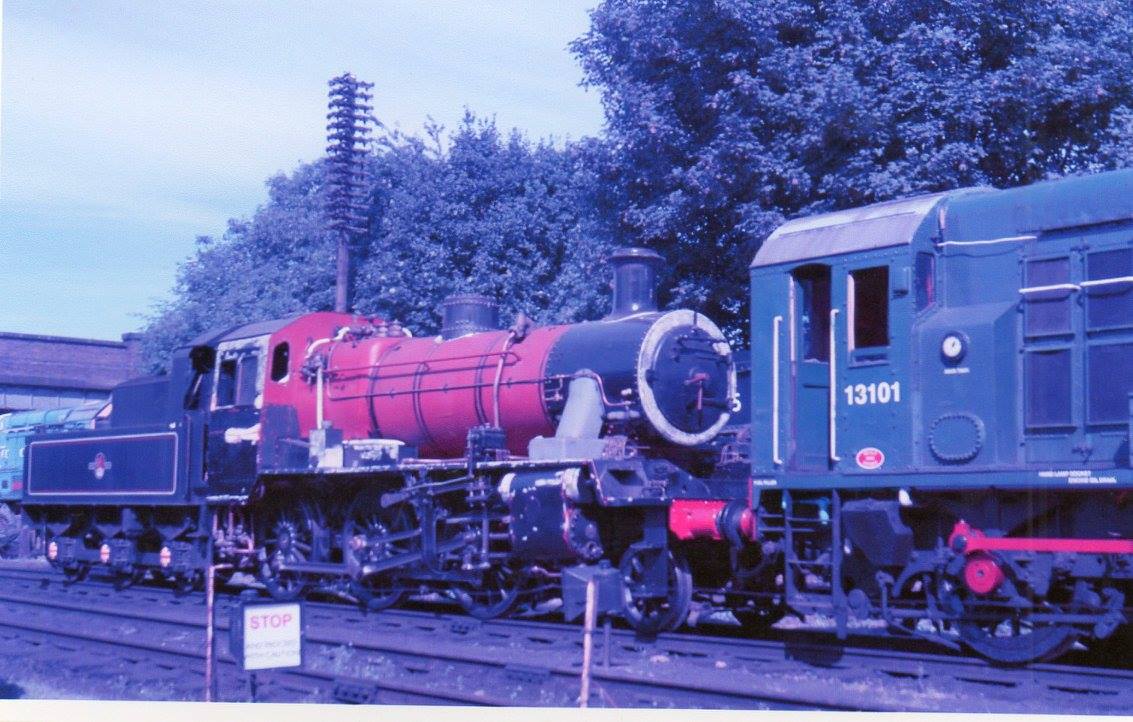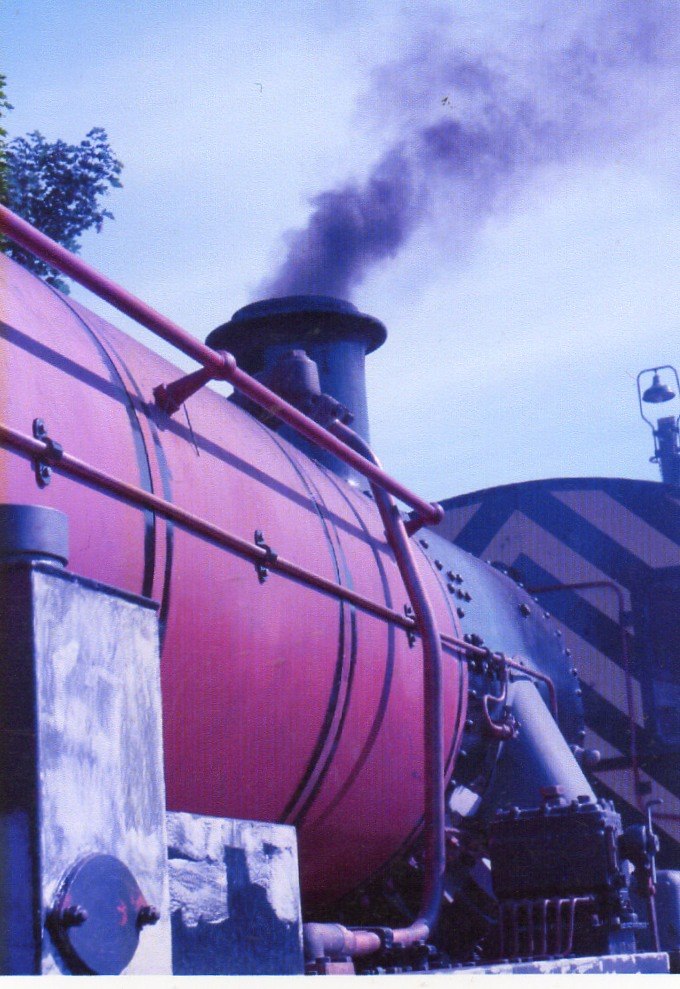 Its with great pleasure I can say that 78018 will be entering traffic latter this year at the GCR so keep your eyes pealed for more news as it comes.
78018 is a B.R. Standard 2-6-0 class 2MT tender locomotive, built in 1953 at Darlington North Road Works at a cost of £14,809. With a life expectancy of 40 years. It was one of a class of 65, and entered traffic on March 3rd 1954, at West Auckland Shed (County Durham) this was soon followed by a move to Kirkby Stephen, working trains from Tebay to Barnard Castle (Stainmore Railway). It was while on this line that 78018 became "famous" by getting stuck in a "Snowdrift at Bleath Gilll", during Febuary 1955, (this was all caught on film). It was then transferred to Chester Midland in April 1960, then in 1962 was sent to Workington. May 1963 saw it transferred to Willesden, then Nuneaton in September 1965 and finally Shrewsbury before withdrawal on November 12th 1966.
78018 then spent 11 years 4 months at Barry scrapyard before being preserved at Shackerstone in November 1978.
Little work was carried out whilst at Shackerstone and it was resold to the Darlington Railway Preservation Society in 1981.
Since arrival at Darlington Restoration has slowly been taking place. As of 2012 the 78018 was 85% complete.


In 2012 the Darlington Railway Preservation Society entered a agreement with the Loughborough Standards Locomotive Group, to allow final assembly of 78018 in Loughborough. The standard left the DRPS in November 2012, and is now undergoing the final stages of restoration in Loughborough while we finish the restoration of the tender tank and chassis. The DRPS still own 78018 while the LSLG will be custodians. The tender will shortly be reunited with the locomotive.
As of August 2016 the locomotive is now undergoing testing and final finishing with the aim of it entering traffic in the Autumn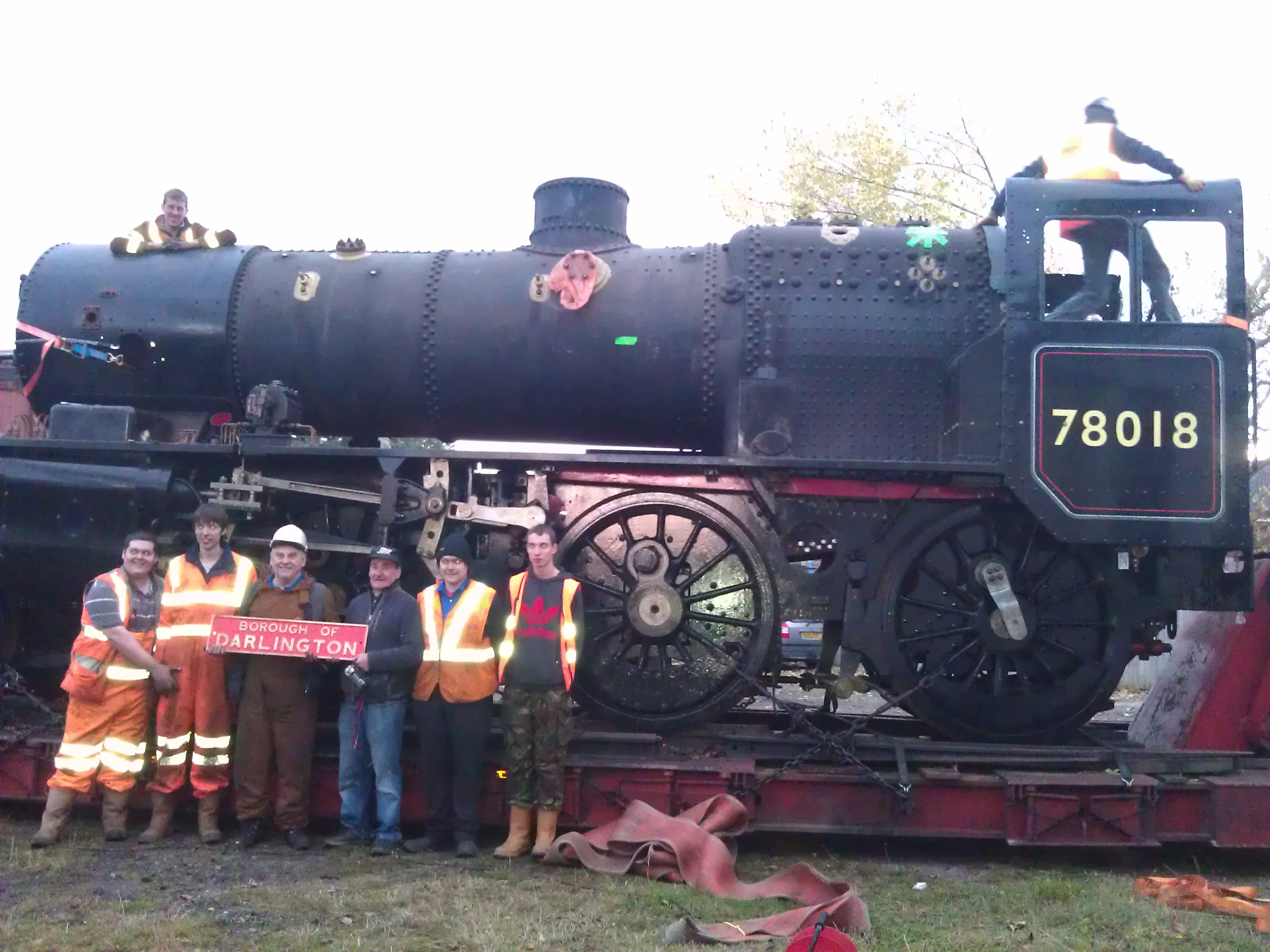 78018 ready to depart for Loughborough with members of the DRPS, left to right Richard Snowdon, Kurt Lynes, Malcolm Simpson, Barrie Lamb, Paul Bailey, Sean Montieth, and Mark Cossins is see sticking out of the smoke box.
Boiler Pressure :- 200lb/sq.in (Superheated). Cylinders (Outside) :- 2x 16 1/2" (Dia) x 24" (Stroke).
Tractive Effort :- 18513 lbf at 85% Boiler Pressure. Valve Gear :- Walschaerts, Piston Valves.
Wheel Diameters :- 3'0" (Pony) 5'0" (Driving). Weight :- 49.25 tons (Loco) 36.85 tons (Tender).
Axle Load :- 13tons. Tender :- B.R.type 3, Coal 4 tons, Water 3000 Gallons.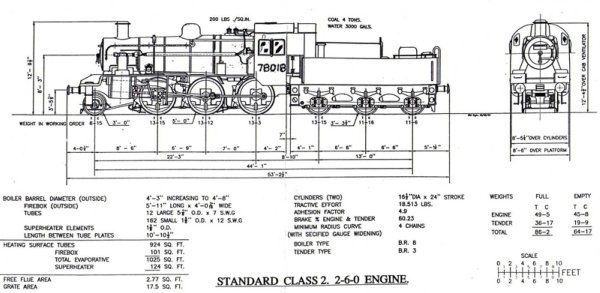 7/7/2011
Tender Painting
After having a long break from work on 78018, due to our efforts being diverted to work on "Northern Gas Board No 1" our Peckett 0-4-0 saddle tank, we are repainting the tender to protect it as it continues to sit outside. Work should resume as normal soon once Northern Gas Board No 1 is back in steam.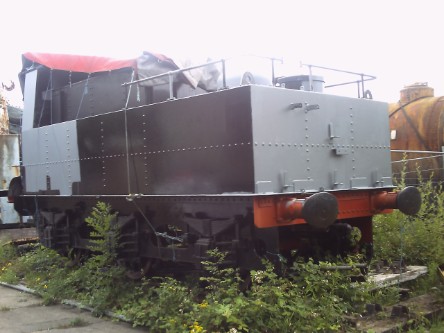 19/10/2009. Another milestone reached.
Peter Horwood has been fitting the oil lubricating pipes and they are all now fitted. As can be seen in the pictures below it's not the easiest of jobs as all the pipes run from the two lubricators on the running boards to the various places that require oil such as the six axle boxes.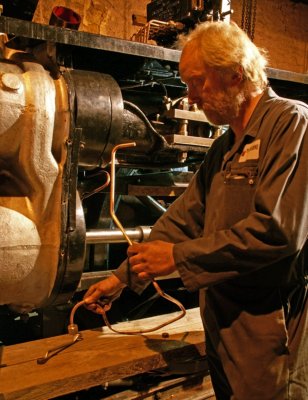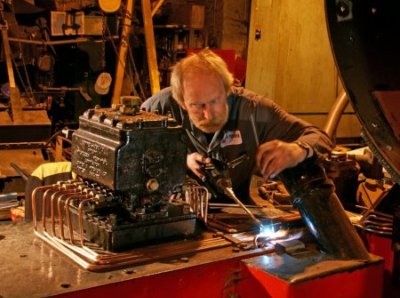 19/10/2009.
(Left) Peter bends one of the last lubricating oil pipes to shape.
(Above) Peter solders the last of the oil lubrication pipes.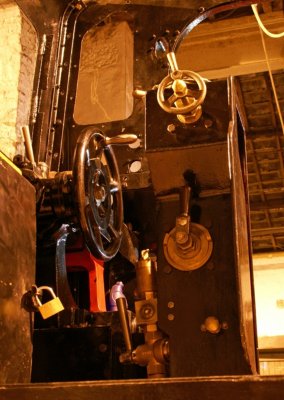 5/10/2009.
During the last few months we have been preparing and having made a number of valves for 78018. A few have recently been fitted, 4 of these have been fitted in the cab, the top valve is the Blower valve below that is the Sanding valve, below that is Vaccum relief valve and to the left of that is the Steam brake lubricator.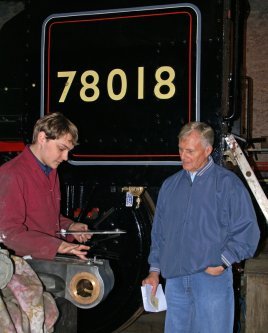 24/9/2009.
Paul shows one of our visitors, Mr George Harrison, 78018's rods,13/9/2009.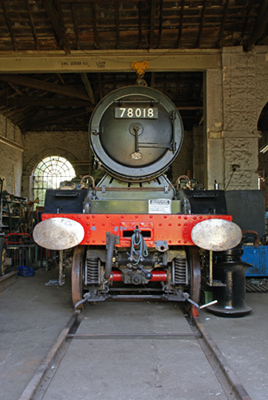 1/6/2009.
The Boiler has been moved and track has been laid ready for 78018 to be fitted with it's brand new rods.
25/5/2009.
78018's boiler was prepared for a small move, this involved lifting the boiler off the support it has been resting on and sitting it on a flat trolley. The boiler needs moving about 3 feet across the shed as it is blocking the doorway which we need clear to move the chassis forward to fit the rods.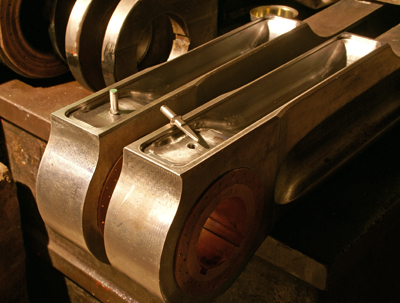 4/5/2009.
We Have now made and tested the needles for the rods (see left).
The Cab floor is now finished.
21/3/2009.
Work at the moment being carried out is, boiler fittings are being trial fitted including the backhead cladding, and the timber cab floor is being fitted, also cotter pins are being made for some of the motion. Some of the rods were trial fitted as they were made brand new a number of years ago and have never been fitted.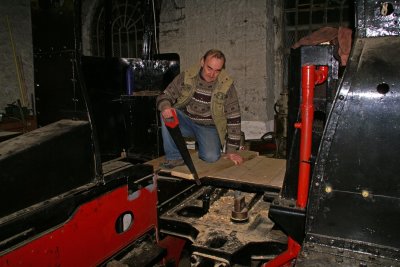 D.R.P.S. Chairman Barrie Lamb cuts another length of timber for the cab floor 2/3/2009.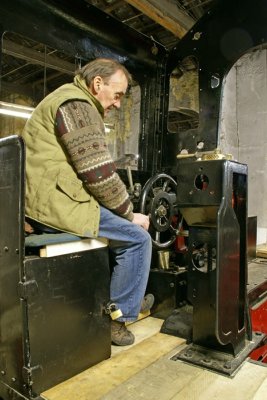 Barrie tries out the drivers seat for size 2/3/2009.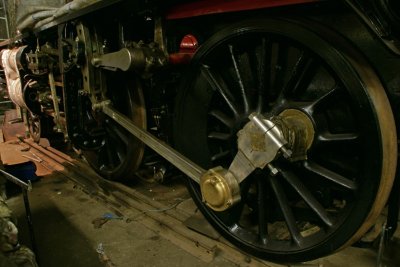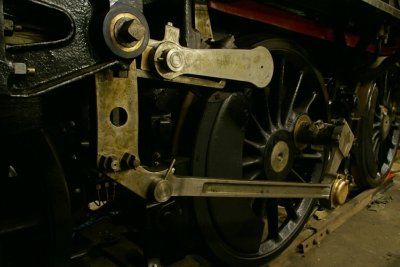 Trial fitting of the Eccentric Rods 16/2/2009.